Hardware Wallet Recovery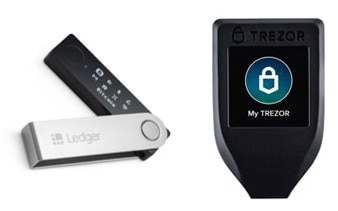 Common hardware wallets:
Trezor One
Trezor Model T
Ledger Nano S
Ledger Nano X
Keep Key
Hardware wallets are a great solution to safely and securely store cryptocurrency offline. Unlike software or 'hot' wallets, hardware wallets are not connected to the internet and are therefore virtually unhackable as they can not be infected with malware and operate independent of a phone or computer operating system.
Physical Problems with Hardware Wallets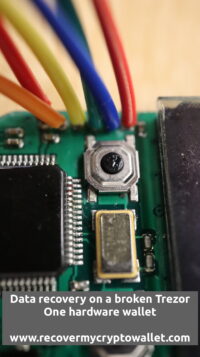 The main problems are around the reliability of the actual device. Buttons will cease to function, screens stop working and the interface port may become unstable and not allow a connection. Although this is inconvenient it's also re-assuring as your crypto is still safe on the device. All we need to do is carefully repair the hardware device to restore access.
Firmware Updates and Incompatibility Issues
Firmware is the computer code that actually runs the hardware wallet. It is stored on the wallet and from time to time your hardware wallet will tell you an updated version of the firmware is available to download and install. If you use your hardware wallet regularly you'll probably be running a very recent firmware version and there shouldn't be any major concern with updating your firmware when prompted. If you've not used your hardware device for a few years though you'll probably find the firmware version it runs is no longer supported. Updating to the latest version should be straight forward, but if you've lost your seed phrase you should avoid updating the firmware just incase something goes wrong during the process.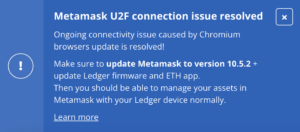 Similarly some hardware wallets may be running incompatible firmware that leads to problems when connecting to other wallets. An example is this recent issue around the connectivity between the Ledger Nano X, Metamask and the Chromium browser which has now been resolved.
Safety First
If you're thinking of investing in a hardware wallet make sure you get it from a reputable source. There have been cases of people buying secondhand hardware wallets that run hijacked non-factory firmware designed to steal any cryptocurrency that is stored on the wallet.
Recovering Crypto from Broken Hardware Wallets
We have experience in recovering cryptocurrency from broken Trezor and Ledger Nano devices. Devices often become physically damaged making access to them impossible until repaired. Security flaws also make some hardware wallets susceptible to sidechain attacks where it becomes possible to read and extract both the password and seed words of the device directly from memory.
Additional Links